A woman marches towards the San Francisco ferry building holding her sign, depicting the symbol for feminism, during the Tax March on April 15, 2017. People took to the streets nationwide to demand the release of President Donald Trump's tax returns.
An estimated 60,000 protestors attended the Women's March in Oakland on January 21, 2017. This march was just one of hundreds that took place worldwide, where women, men, and children took to the streets to show support for women everywhere, as well as a variety of issues that they feel are threatened by the Trump administration.
Signs lay stacked on the ground at a Human Billboard event outside Rockridge Bart station in Oakland, CA on April 1, 2017. Protestors stood to honor the lives of eight African-American and POC trans women who were murdered in the U.S. in the first 3 months of 2017. Their names are: Jaquarrius Holland, Chyna Gibson, Taja de Jesus, Ciara McElveen, Mesha Caldwell, Jamie Lee Wounded Arrow, Keke Collier, Jojo Striker and Alphonza Watson.
A woman poses for a picture, holding her sign high, at the Women's March in Oakland, California on January 21, 2017.
As the rain pours in San Francisco, a woman marches with thousands of others during the Women's March on January 21, 2017. For many, the Women's March helped people feel less alone and more unified after the aftermath of the presidential election. This march, and others, have inspired women to become more politically involved, whether it involves contacting members of Congress or running for political office.
An umbrella in one hand and holding her sign in another, a woman marches with an estimated 100,000 people on the the streets of San Francisco for the Women's March on January 21, 2017. About a month before the election in November 2016, a 2005 recording of Trump making lewd comments about women was leaked. He brags that because he is a celebrity, he can "grab [women] by the pussy", which is what the women's sign references.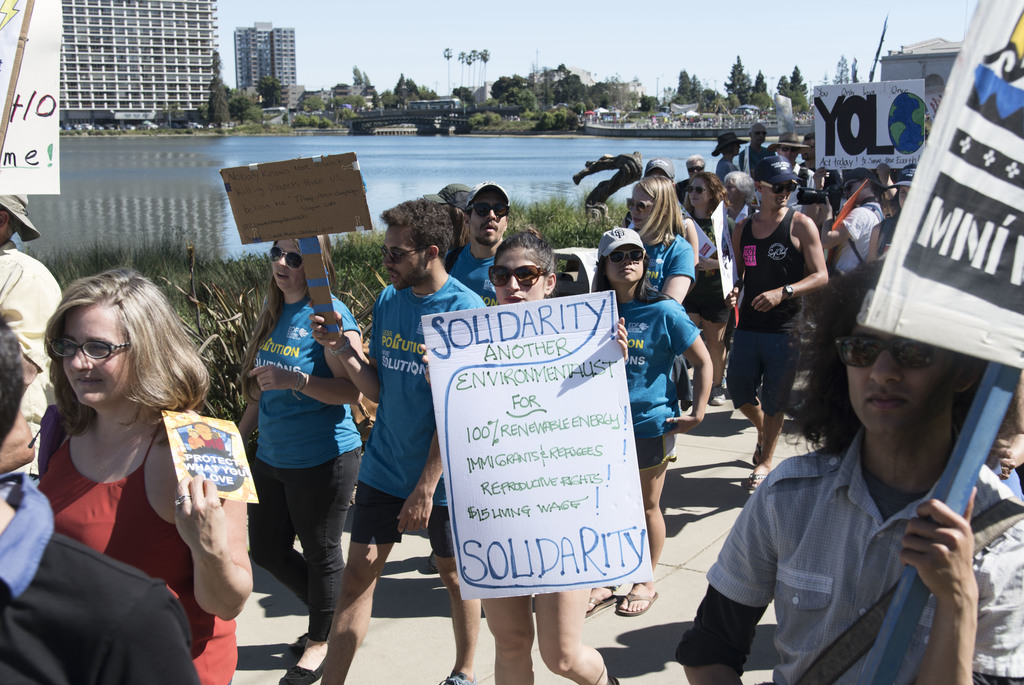 A young woman marches with other demonstrators at the People's Climate March in Oakland, CA on April 29, 2017, the 100th day of Trump's presidency. Thousands gathered to stand up for the protection of our environment, our health, and worker's rights. During his campaign and his presidency, Trump has called climate change a hoax, has pulled back restrictions for greenhouse gas emissions at power plants, and even signed an executive order that would expand oil drilling in the Arctic and Atlantic oceans.
A young woman stands in the crowd, her backpack adorned with a "Nasty Woman" patch, at the People's Climate March on April 29, 2017 in Oakland, CA. During the third presidential debate, Donald Trump referred to Hillary Clinton as "such a nasty woman". The phrase went viral, with women across the nation reclaiming it as a rallying cry for women's rights.
In downtown San Francisco, CA on April 1, 2017, a woman attends the People's Filibuster, holding up her sign. Put on by the People's Defense, a grassroots organization that encourages Americans to use their voices to take a stand against the corruption occurring in the Trump administration, the People's Filibuster protested the nomination of Neil Gorsuch to the US Supreme Court.
A group of men and women, dressed in Ghosbuster's costumes and donning "pussyhats", take part in the April 15, 2017 Tax March in San Francisco, holding a sign supporting Planned Parenthood. Throughout his political career and before becoming vice president, Mike Pence has supported multiple bills that aim to defund Planned Parenthood. In March 2017, he broke a tie on a legislative bill that allows states to withhold federal funding to health care providers that provide abortion services, like Planned Parenthood. Despite this setback, Planned Parenthood has seen a huge spike in donations and volunteers since Trump won the presidency in November.
A woman holds her rain drenched sign, watching people head towards the Capitol during the March for Science in Washington DC on April 22, 2017. The March for Science took place in more than 600 cities worldwide, and was organized in order to call attention to the important role of science in our everyday lives, and to address Trump and his administrations views on climate change and science.
A woman carries her son on her shoulders as they march towards to Capitol during the March for Science in Washington DC on April 22, 2017.
A young woman stands outside the Environmental Protection Agency (EPA), holding up a sign, during the March for Science in Washington DC on April 22, 2017. Scott Pruitt, Trump's appointed Administrator of the EPA, has publicly denied climate change and earlier this year stated that funds for the EPA would be cut by 31%. However, Congress' recent budget compromise in early May 2017 showed only a minor impact on the EPA budget.
"Still I Rise" has become a popular slogan for protests that have been taking place since Trump's election in November 2016. Used here at the Women's March in Oakland, California on January 21, 2017, the slogan is taken from a poem in Maya Angelou's 1978 Still I Rise book of poetry. It is about determination to rise above difficult times, to persevere in times of hardship and never give up hope. "Still I Rise" has become a battlecry for those in opposition to President Trump's views and policies on things like women's rights, the climate and environment, and foreign affairs.
Outside the Capitol lawn in Washington DC, a little girl stands in the rain during the March for Science on April 22, 2017. There is a gender gap in the amount of women participating in STEM (science, technology, engineering, and mathematics) career fields, which researchers believe is partially because of gender stereotypes that are established during childhood. Because of this, there has been a development in special programs that allow young girls and women to pursue their interest in STEM related fields.